How do Outdoor Solar Street Lights Work and the components?

2021-05-08

VIEW "1349
Have you ever noticed that solar powered street lights are gradually replacing the traditional street lights for outdoor lighting? Outdoor solar street lights are raised light sources which are powered by solar panels generally mounted on the lighting structure or integrated into the pole itself. (quoted from Wikipedia)They are best choices for countries with abundant sunlight.
Solar energy is renewable and environment friendly. Solar powered street light is a cost-effective way to light up the parks and roads. Outdoor solar street lights consist of solar panel, controller, battery, LED light source, pole. To choose the best outdoor solar street light, we need to know the working principle and components of the outdoor solar street lights.
1. How do outdoor solar street lights work?
Solar panel converts the light energy into electrical energy through the photoelectric effect or photochemical effect. The electrical energy is stored in the solar batteries.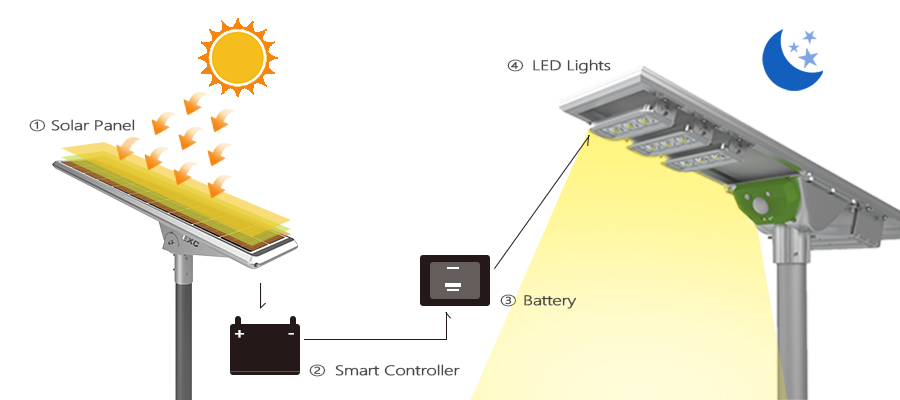 2. Outdoor solar street light components
Solar panel: It converts the solar energy into electrical energy. Solar cells are divided into amorphous silicon and crystalline silicon. Among them, crystalline silicon can be divided into polycrystalline silicon and monocrystalline silicon.
Rechargeable battery: It plays a significant role in the lighting. The battery store electrical energy as chemical energy and convert chemical energy to electrical energy again when it needs to be discharged.
Pole: Normal pole can hold the street light. The smart pole can integrate 5G base stations, smart lighting, smart security, vehicle-road collaboration and other equipment, as well as new technologies such as big data, Internet of Things and artificial intelligence. With so many functions, the street light is what we called smart street light.
Lighting fixture: LED light source is widely used due to the high luminous efficiency. It consumes less energy compared with traditional light source. The mounting height differs according to different power of light sources.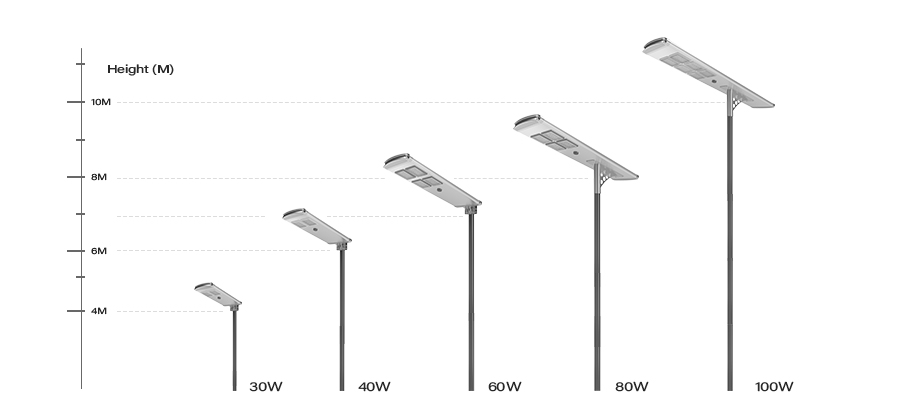 Controller: The most basic function of the solar street light controller is of course to have a control function. When the solar panel irradiates the solar energy, the solar panel will charge the battery. At this time, the controller will automatically detect the charging voltage and output the voltage to the led lighting fixtures. This will make the led street light illuminate.
If you want to know more about the outdoor solar street light, please read " FAQ About Solar Street Lights".