Smart Public Lighting | Guard The Light In The Community
PROJECT OVERVIEW
EXC LED New smart community (block) promotion and construction project in Chengyang District
At dusk, in a community in Chengyang District, Qingdao, a batch of new street lamps with their own charging devices slowly turn on to illuminate people's way home. They are called "new" street lamps not only because of their new appearance, but also because of their powerful "new" functions.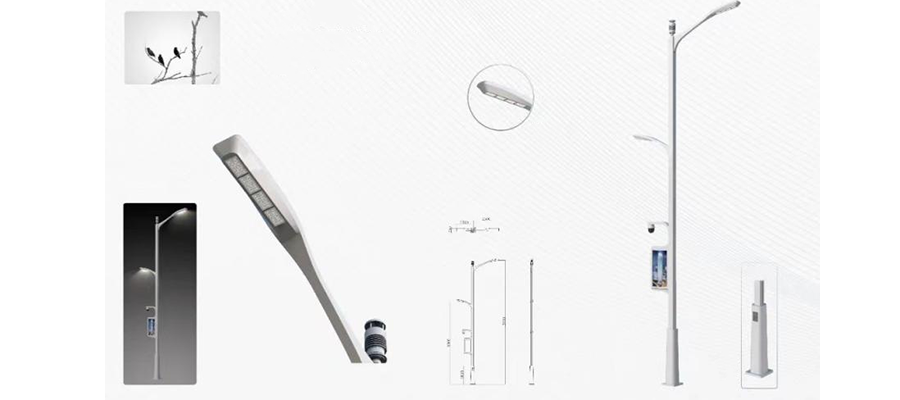 In and out of friends, help each other! The street lamp takes birds and branches returning to their nests in the evening as design elements, and its simple and smooth lines give it a unique beauty. Street lamp is the guardian of the city, lighting up the light of a modern city, guarding the city, waiting for love!
Newly installed Guardiance smart street lights stand on both sides of the community road. During the day, they look like a guard of honor waiting to be inspected, dignified and upright. At night, they transform into light bringers, providing light for pedestrians and communities. In addition to the lighting function, the street lamps here also integrate many black technologies, including environmental monitoring, intelligent power supply, video monitoring, one-button alarm, information release and other functions, which really make the street lamps intelligent and the community wise.
By connecting each lamp on the smart street lamp with information sensor equipment and the Internet, it is possible to achieve fine management of on-demand lighting for batch lamps.When the sensor detects changes in the light environment, traffic flow, and people flow, it will carry out intelligent dimming according to different needs, so that per kilowatt-hour of electricity is used on the "blade", which not only makes the road lighting more humanized, but also can achieve the purpose of energy conservation and emission reduction.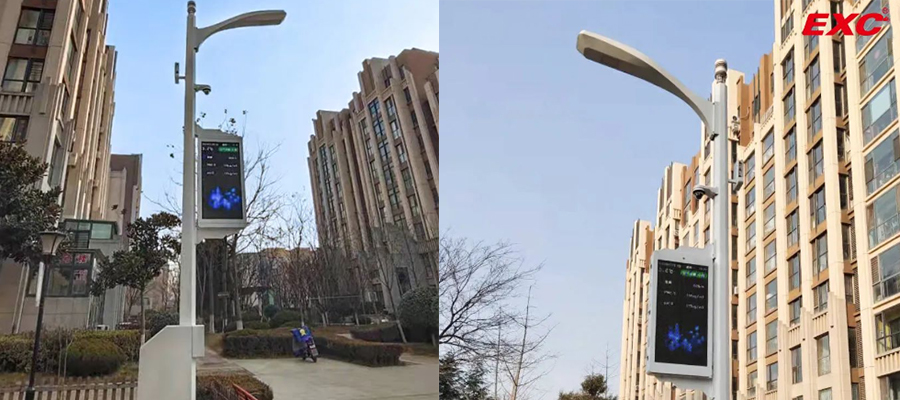 Intelligent power supply
Intelligent power supply is a basic application of intelligent street lamp. Guardiance smart street lamp adopts low-voltage DC power supply, which can effectively save energy and ensure safe operation. At the same time, the street lamp contains strong current control, intelligent sensing, leakage protection, lightning protection and other special functions, to achieve intelligent power supply for the street lamp escort.
Video monitoring
The Guardiance street light equipped with 4 million pixel 2.5-inch network HD Mini PTZ camera can monitor the complete information of the road in real time, provide video evidence for the community and relevant administrative departments, and provide a security monitoring platform connected to the administrative departments, so as to fully protect the personal and property safety of residents in the community.
The information release
Provide P4 outdoor full-color double screen, which can realize real-time broadcast video, images, text information, also can set policies play different display content, period of time play, play points region, according to different light day and night, can be set up multimedia display brightness, can also be broadcast traffic information in time according to the site environment, weather conditions, municipal news, etc., More humanized and intelligent management of multimedia display release.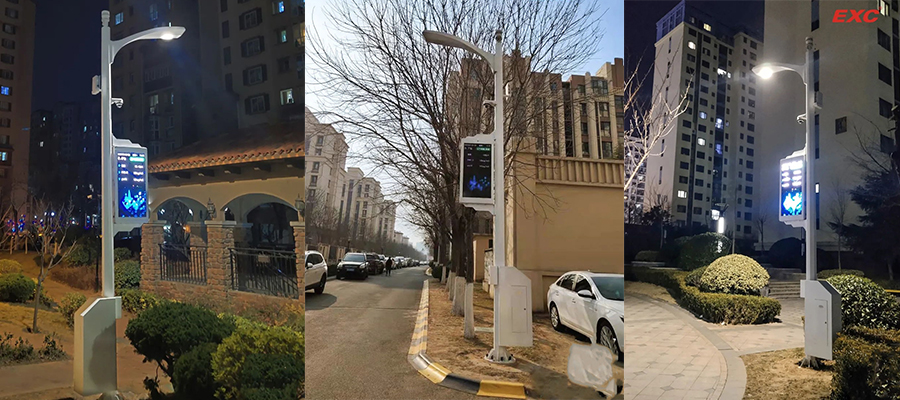 Public broadcasting
The Chinese style lamp is equipped with these equipment such as public broadcasting host and IP broadcasting etc, so as to realize the emergency broadcasting function. The monitoring center broadcasts emergency information, emergency notice, government affairs, news, etc., and the linkage information is played on the screen to enable guests to receive relevant information in a timely and effective manner.
Smart Street Pole
The combination of road signs and smart street lamps can effectively reduce the occupation of urban space resources brought by repeated construction, reduce construction costs, and realize multi-use and resource sharing in one pole.
As night falls, Guardiance street light equipped with intelligent "equipment" begin to light up. Bright lights and new intelligent street lights equipped with intelligent control technology bring brightness and convenience to the community residents. It not only increases residents' sense of security and happiness, but also highlights smart community, creating a new name card for a livable smart community!
BACK TO LIST